HIGH PERFORMANCE, 2-SEATER, FORMULA-STYLE
SUTD's Electric Vehicle Addictive Manufacturing (EVAM) Project was conceived in September 2020. Its objective: to challenge the traditional way that electric vehicles have been designed and manufactured. EVAM is a high-performance 2-seater Formula-style race car with a host of 3D printing and artificial intelligence (AI) technologies implemented into its design. Our vision is to change the way automotive components are designed through the versatility of 3D printing and generative design.
In EVAM, students partake in the complete design cycle, from simulation driven design iterations to fabrication and assembly. EVAM crosses multiple disciplines and fields; it is a marriage of design aesthetics and user experience. The automotive project makes full use of SUTD's unique pedagogy in breaking down barriers, bringing together the traditional fields of mechanical engineering, electrical engineering, and so much more.
DEMO AND JOYRIDE SESSIONS
Both 18 & 19 Feb: 11.30AM, 1.30PM, 2.30PM, 3.30PM, 4.30PM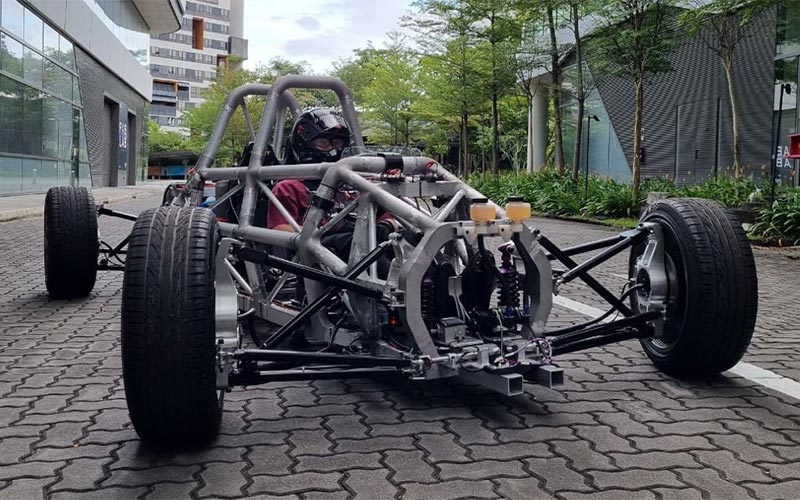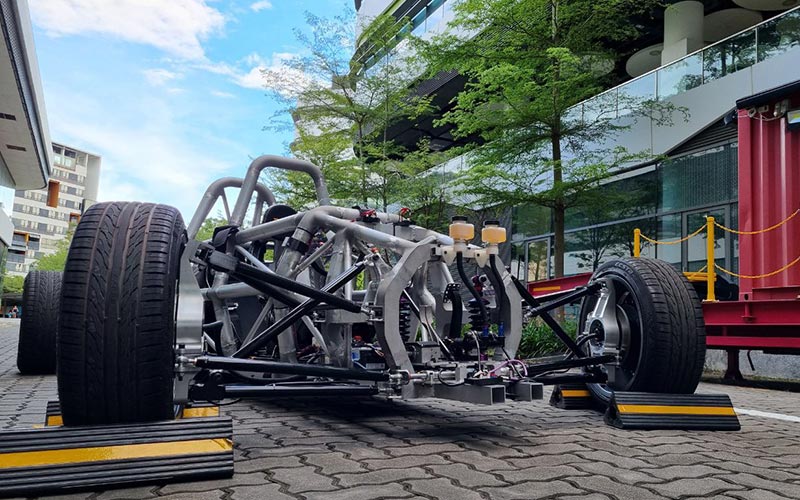 BIRTH FROM THE ASIA'S SHELL ECO-MARATHON
In 2018, the Electric Vehicle Club participated in Asia's Shell Eco-marathon, creating the E17. It was a year-long effort to push the boundaries of the team's design, engineering and technical capabilities. During the competition, not only did successfully pass the technical tests, but it was also a favourite in both the Design Award and Innovation Award categories.
E20's goal is to improve the E17 in all areas such as its powertrain and aesthetics, all while maintaining the best of the vehicle like its overall geometry. The E20 team currently consists of senior and junior members of the EV Club, who have all come together to design, engineer, build, assemble and test a completely new vehicle from the ground up.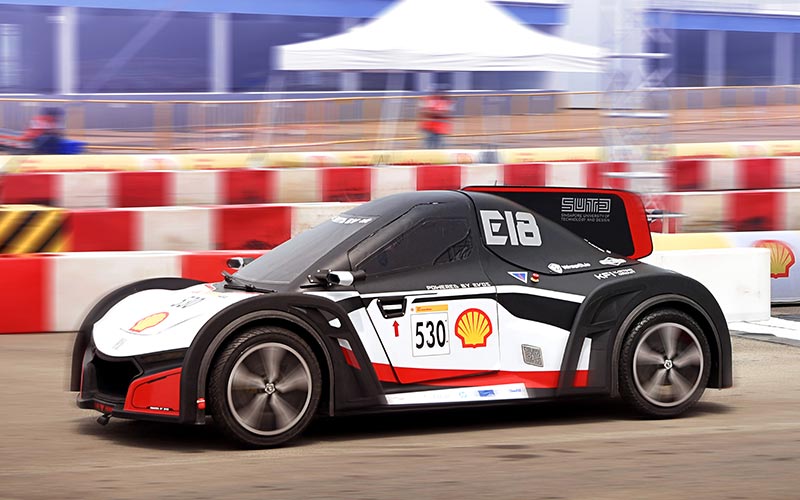 The E18 was running on track in Shell Eco-Marathon Asia 2018
Flagship of SUTD's Electric Vehicle Design Challenge
The J23 is our latest version of the go-kart that has historically been the flagship of SUTD's Electric Vehicle Design Challenge (EVDC). Going through iterations every year, it is the first project undertaken by every batch of Freshmores, whose objective is to improve the go-kart using new technologies or processes and remove flaws from the previous generation.
This year's J23 model has been upgraded with a new battery system, replacing the heavy, outdated lead-acid batteries with lighter lithium-ion batteries. The vehicle has also been updated with a more ergonomic steering wheel, an entirely new braking system, and more efficient electronics.
Through the J-series projects, our Freshmores have picked up new technical skills and real-world experience, regardless if they are new to engineering or have had past experience in the field. This year's J23 version is our biggest step yet, with much potential for future improvements as new technologies and fresh minds take the stage.