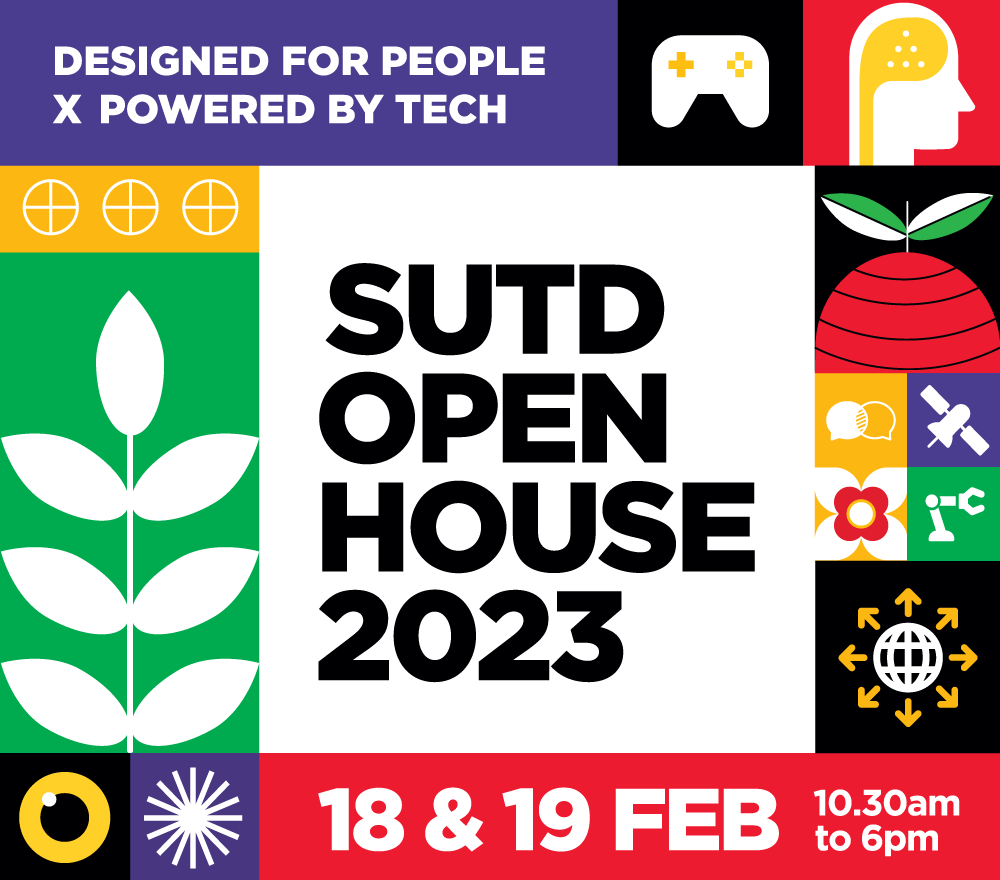 These activities are happening on both 18 & 19 Feb!
Our students are passionate about their Fifth Rows (a.k.a. co-curricular activities); and we support them by having Wednesday and Friday afternoons blocked off their curricular timetable to pursue their passions.
Take the chance to ask students about student life and check out showcases by our Fifth Rows under the 5 clusters: Arts, Community, Culture, Makers and Sports.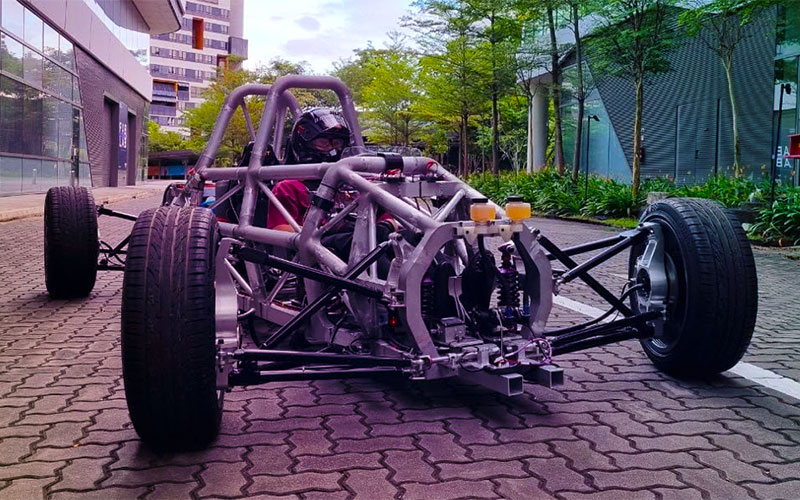 EV Showcase & Souvenir Workshop
Project EVAM showcases a high-performance electric vehicle (EV) featuring an innovative 3D-printed aluminium chassis, wholly designed and fabricated by our EV Club. Watch it in action (5 times daily – 11.30am, 1.30pm, 2.30pm, 3.30pm, 4.30pm) and stand a chance to be one of the lucky few to take a spin in it!
Also check out the static displays of the E20 and J23 (more info).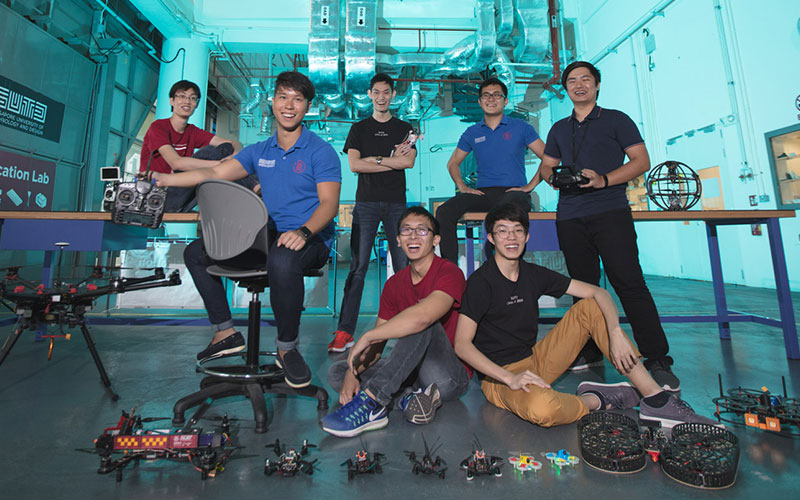 Get a chance to fly a drone at the newly opened AerialArena@SUTD.
Marvel at the drones designed by our students from the Multi-Rotor SUTD (MRS) club and check out their piloting skills!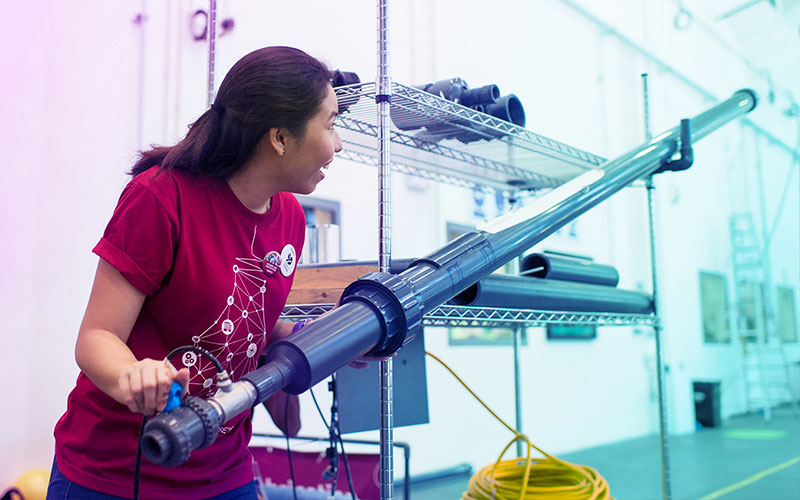 The Fab Lab (Fab for Fabrication) is one of our students' favourite hangouts on campus – where fabulous ideas come to life!
Come see the equipment and space available for our students to learn, experiment and build with various materials, fabrication processes and even new technology like equipment training conducted in VR.
D

ESIGNED FOR PEOPLE
X POWERED BY TECH
What is Design and Innovation at SUTD? Learn about our innovations in education, aging, computing, sustainability, healthcare and robotics through our student and faculty projects at the Design and Innovation booth. Let us show you how an SUTD education empowers you to transform lives.
Info Booths
Interact with faculty, students and staff at our info booths to find out more about internship, career, overseas and entrepreneurship opportunities.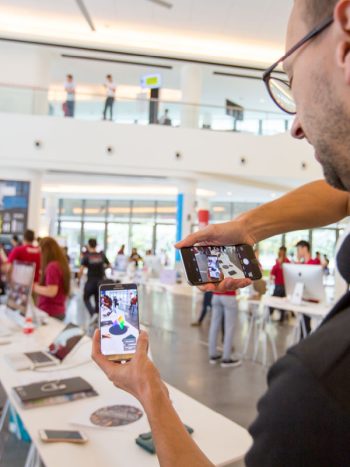 Info Booths
Interact with faculty, students and staff at our info booths to find out more about internship, career, overseas and entrepreneurship opportunities.
All talks will be live-streamed as well.

We hire SUTD students for all parts of our business. We have folks in data science, strategy, trading, in investments, as well as technology. Each one brings their particular discipline but also their ability to work in teams.

SUTD offers an ideal university curriculum focusing on technology, design thinking and critical problem solving skills as it prepares their graduates for the rapidly evolving future in industries such as healthcare.

SUTD's unique multi-disciplinary curriculum gives their graduates an edge in integrated solution and system thinking, especially important under the changing aviation landscape.

SUTD's integrated learning pedagogy is highly relevant to the practice of architecture which demands a holistic, highly collaborative and outcome-driven approach; and the ASD curriculum that drives impact through technological innovation, plays a critical role in bridging skills gap in the built environment sector.
S
UTD Graduates Are Employers' Top Choice
Source: 2021 Graduate Employment Survey conducted by NTU, NUS, SMU, SUSS and SUTD.
1 Mean gross monthly salary
2 Full-time permanent employment rate
Upper Changi MRT Station (DT34) – Take Exit E
OR
Expo MRT Station (DT35 / CG1) – Walk along Changi South Avenue 1 in the direction of Max Pavilion/Somapah Road
Bus number: 20 (Alight along Somapah Road)
B96449: SUTD
B96441: Opposite SUTD
Bus number: 2, 5, 24 (Alight along Upper Changi Road East)
B96041: Upper Changi Station/Opp SUTD
B96049: Upper Changi Station/SUTD
Bus number: 47, 118
Changi Business Park Terrace (Bus Terminal)
Parking is free on 18 and 19 February 2023.
Get driving directions (Google Maps)
From ECP:
Take Exit 2B on ECP (Xilin Ave towards Tampines)
Turn right to Changi South Ave 1
Turn left into the Campus carpark (before the sports complex), after the traffic junction of Somapah Road and Changi South Ave 1
From PIE:
Take Exit 4A on PIE (Simei Ave)
Turn left to Upper Changi Road East
Turn right to Somapah Road
Turn left to Changi South Ave 1
Turn left into the Campus carpark (before the sports complex)